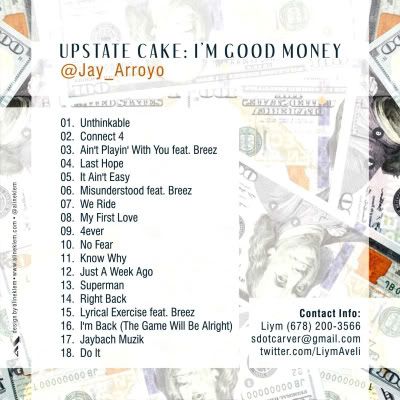 Whats good Jay, let the people know who you are and where your from....
The name is Jay Arroyo, The movement is Capital Regime. I'm from Upstate New York, Ellenville to be exact but I rep the whole 845
.

New York City gets alot of recognition and respect as far as the rap game is concerned, being that thats where it was created, while upstate New York doesn't have many, if any artists present in the game, why do you think that is?

Upstate to me is misunderstood, alot of people have never had any reason to go to upstate new york so they just believe the he say she say. Believe it or not there is alot of talent in upstate new york but we dont really have any major attractions so were always going to be over looked.
Who were some of the artists that you looked up to growing up and inspired you to rap?
I use to love Eminem he is probably the main reason i started rapping. I loved his struggle being the underdog and prevailing through it all. I can relate to him in alot of ways because i dont necessarily fit the so called rapper mold. Currently i have been influenced by rappers like Joe Budden, Young Chris, J.Cole, Drake, Fabolous, Jay-Z and anyone that is kind of getting away from what i call bubble gum rap.
You mention J.Cole and Drake, the new wave of artists that have recently emerged for the have similar styles as far as content and not making "hardcore" raps...what separates you from the new artists that are coming out?
Me personally i would say i fit right in with rappers such as Wale, and Drake. I would love to be mentioned with artist of that caliber. But like i said earlier i think the thing that separates me from other artist is i don't look like a rapper, so when people here me spit for the first time i always get the same reaction, "stop playin' Jay that aint you". I also have my very own style i don't sound like anyone. I'm not afraid to be me, i like artist like Wale & Drake because they made it okay not to be a tough guy rapper and i believe more people can and will relate to what I'm sayin' if I'm being myself rather than fitting the mold that most rappers nowadays are.
How do you feel about the current state of hip hop both on the mainstream level as well as underground?
Mainstream i think im too old for, I think its currently catering to a different age group. Which is fine if i want to listen to real hip hop underground rap is alive and well. Dont get me wrong there are a lot of talented artist in mainstream hip hop. i just have my ear tuned in to underground music because that's where most of my influences are from. I think rap is changing back in the right direction with this new era of spitters, i believe there is still a lot of hope for hip hop.

I agree, what do u think of rappers that are less lyrical and depend more on the feel of their music, for example artists like gucci mane or kid cudi...they seem to either be loved or hated, so whats your take on that?
For the most part as an artist i would tell people to do what is most comfortable for them. I may not like that kind of music but someone will, so someone has to be there to cater to them and make that music.

Very true, you mention Wale and Drake often, are their any artists/producers that you would love to work with? If so, who?
I would love to have drake on a hook, love a verse from Joe Budden and/or J. Cole. As far as producers Alchemist, Just Blaze, Eminem, Dr. Dre, and Vinny Idol.
When did you begin rapping?
I started rapping in 05'. I have been rapping ever since but I didnt start taking it seriously until about a year or 2 ago.
Do youu happen to remember any bars from your first rhyme? (laughs)
haha actually i do it went something like "im on fuego so you know my raps will heat you/ and i dont like birds but i roll with a desert eagle", but i've since evolved and got a little more clever

On your mixtape project "Upstate Cake: I'm Good Money" do you have a particular record thats most special to you? If so which one is it and why?

So far a record called "No Fear" probably means the most to me, it may not be the best record on the tape but so far it might be the most personal.
"What up Liym, what up tone, just want you to know that you my inspiration to bring it home..." Who are Liym and Tone and why do they inspire you?
Saliym is my manager and Tony is one of my close friends from back home. We have the same views on the game and they always back me 100% with this rap thing, so its only right i let them know.

As a rapper, how would you like to be remembered as far as music is concerned?

I want to be remembered as one of the best just like any other rapper does. I just want to inspire people like i was inspired when i first started rapping.
Any last words, shoutouts?
I'd like to shout out my niggas Liym, Breez, Tone, Phat B, A-rod, Rico, Chico, and the whole Ellenville. Captial Regime Entertainment, Upstate Cake: I'm Good Money comin' this summer, Upstate i gotchu 845 til i die.
Download Here
Jay Arroyo - "Upstate Cake: I'm Good Money" Mixtape