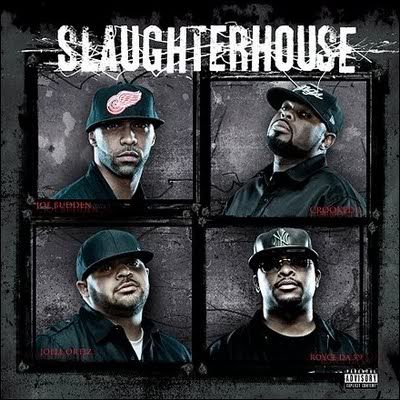 This title of this blog is my favorite joint off the self-titled debut album from Slaughterhouse. . .This supergroup consists of 4 artist (Joe Budden, Royce da 5'9, Crooked I, and Joell Ortiz) whom I believe are
MAD
talented but have yet to reach their full potential. Despite prior label woes suffered by the individuals of Slaughterhouse, they've been able to gain major internet followings due to the quality music they've developed. I feel this group will definitely help bring back what hip-hop has seemed to have left behind,
lyrics
. This group will certainly be beneficial to each of their individual careers as well. Personally, I have always been a fan of both Joe Budden and Joell Ortiz but I wasn't very familiar with Crooked I and Royce da 5'9. By them forming this lyrical conglomerate, I've found out that Royce and Crook are dope lyrically and made me more interested in their music. This can only make their fanbase grow due to fans of each being exposed to the others in the group. Another cool thing about the group is they make listening fun for the fans. On any given song, a debate can arise about who had the best verse. Of course certain fans will be more biased toward their favorite member, but they all
GET BUSY
so there isn't always an obvious answer to who had the dopest verse.
Heres the song "Onslaught 2" (which I believe Joe had the illest verse), but its up to you to decide. They definitely
ALL
went in.